Blog
May 18th, 2018
Congratulations to Yr 6 for completing their SATs this week. We are so proud of you all!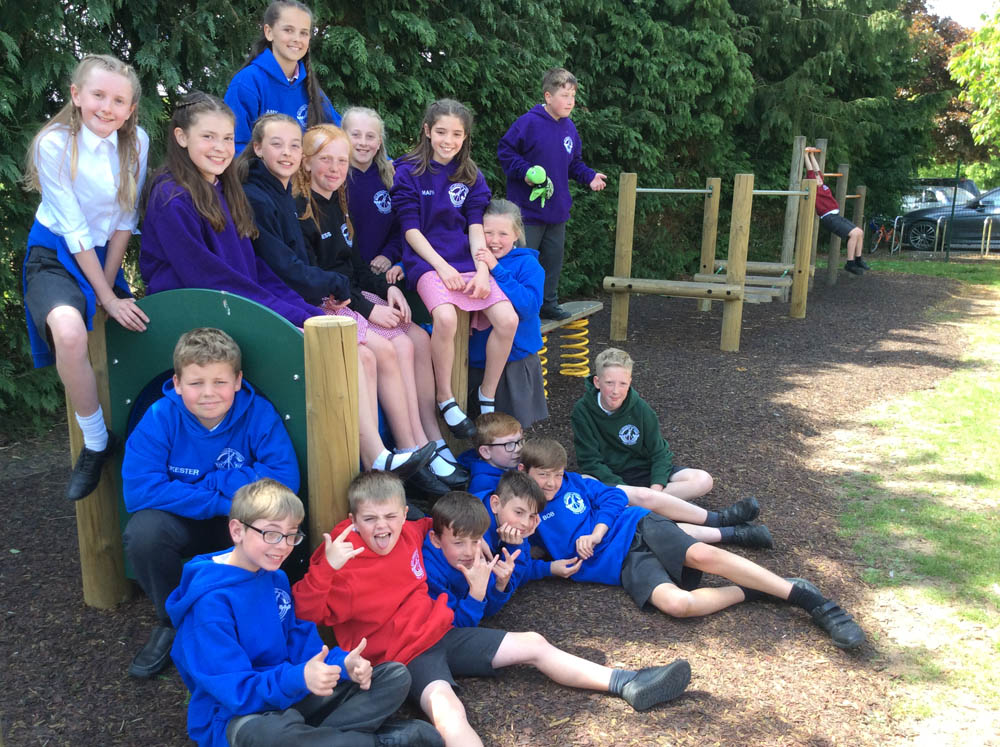 Many thanks to Mrs Mason Flynn for organising leavers hoodies to arrive in time for the picnic tomorrow.
May 18th, 2018
May 8th, 2018
April 20th, 2018
On Friday, Mr Sastre ,a vet ,came to our class to see Milly the school dog and do her check up.He did it in front of the class. First he listened to Mrs Salisbury answer his questions.By knowing her age, he already knew not to search for cancer.Next he put a piece of paper carefully into her eye and left it there for one minute.He explained how this did not hurt because dogs had a third eyelid -for sleeping.After the test ,Mr Sastre showed us the piece of paper that had been in the eye now had blue up until the 21mm. He told us that he was testing Milly's tear production.Next he looked at Milly's gumS and said that they were pink and that it meant that she was a very healthy dog. Then he examined the rest of Milly; her heart, her teeth, her skin and her abdomen.
He let everyone listen to Santi's heart with a stethoscope and said that Milly had passed her test! Well done Milly, I think you should get a headteacher's award.
By Santi.
March 19th, 2018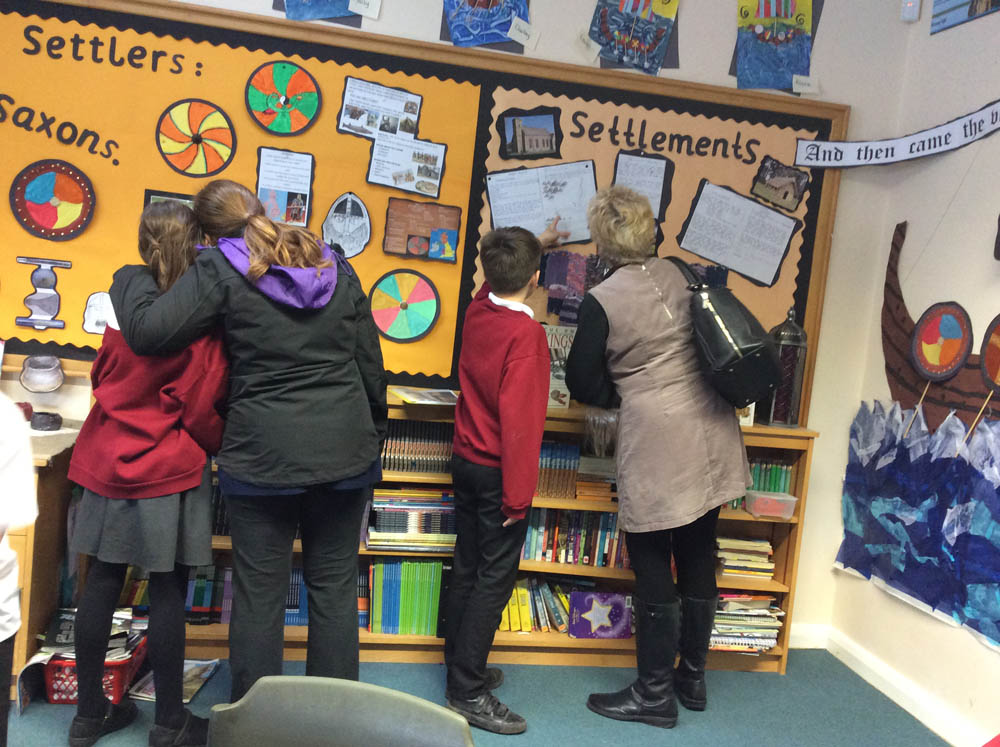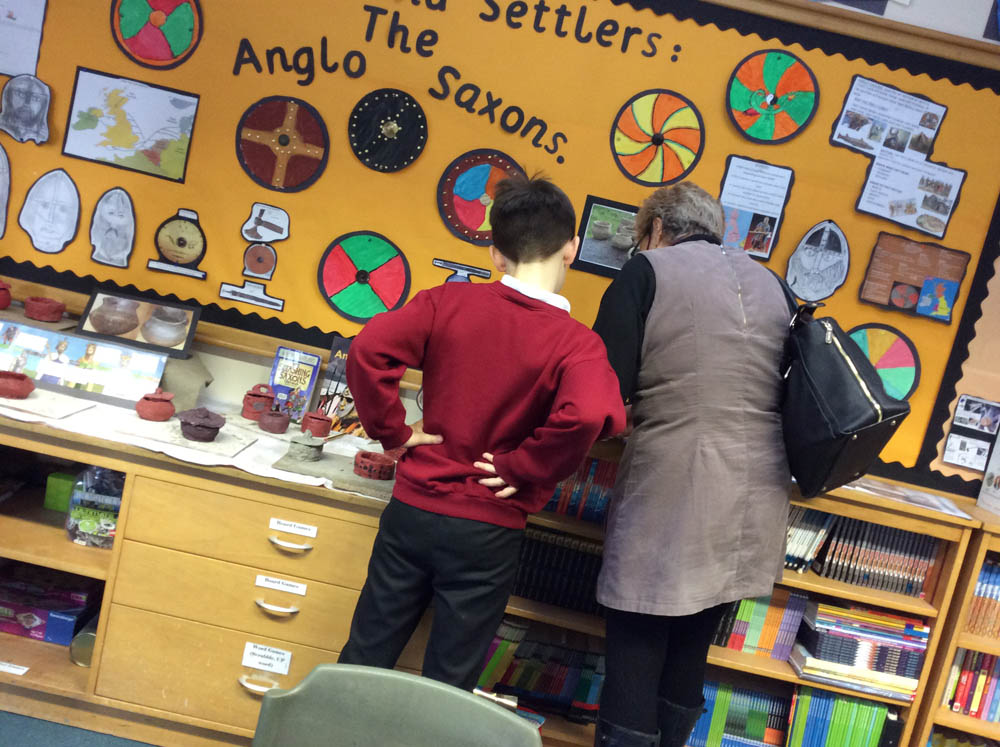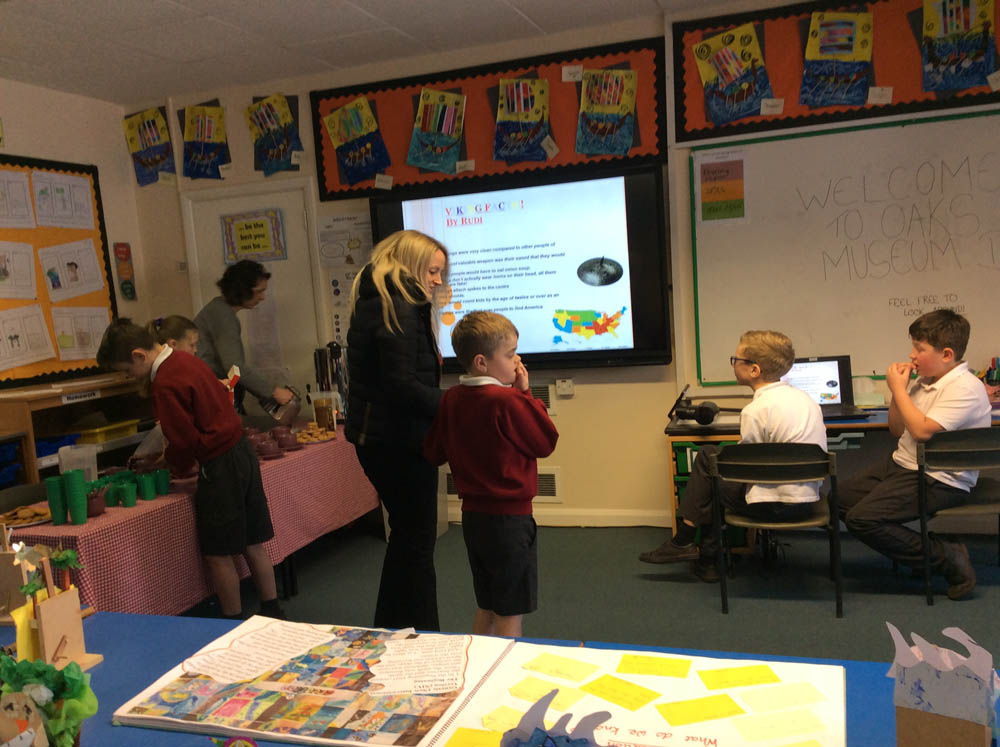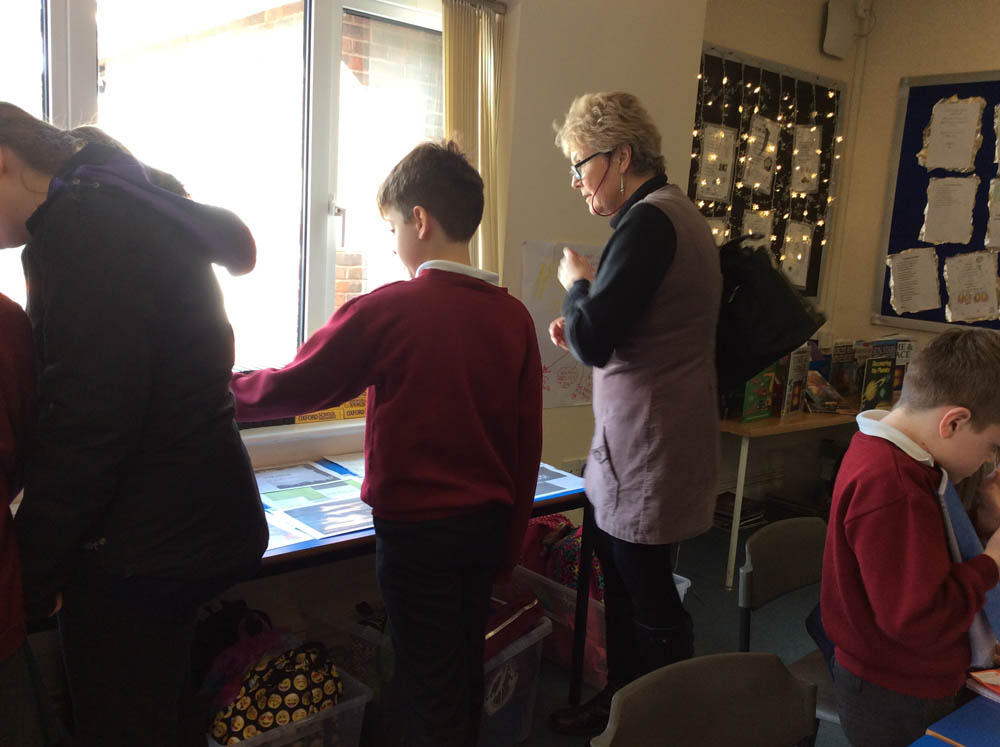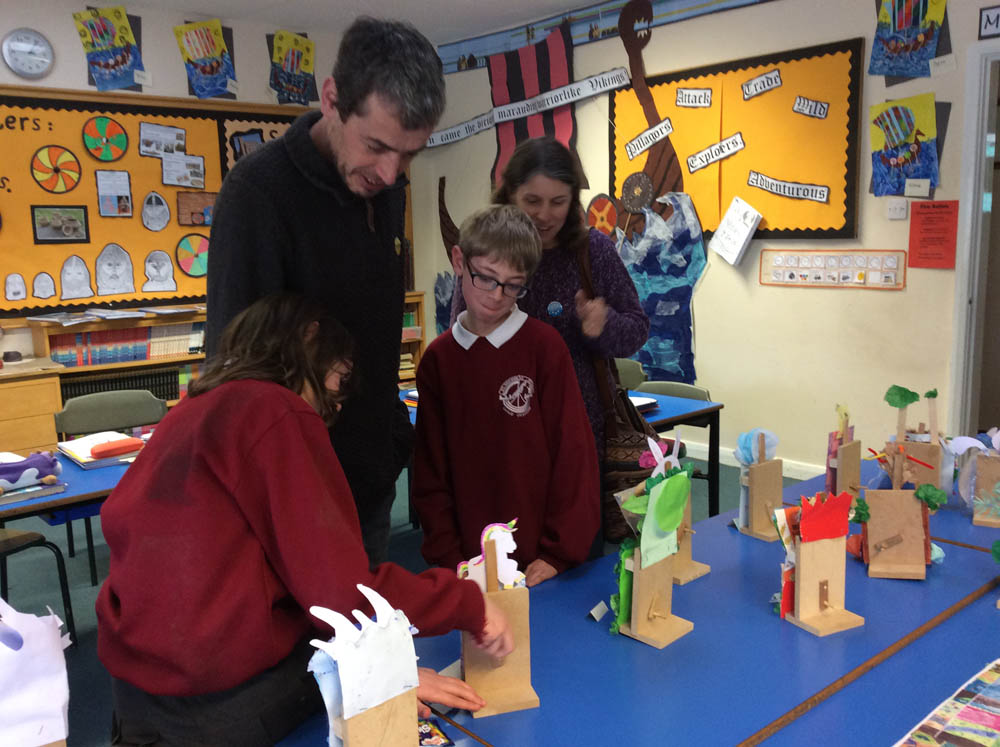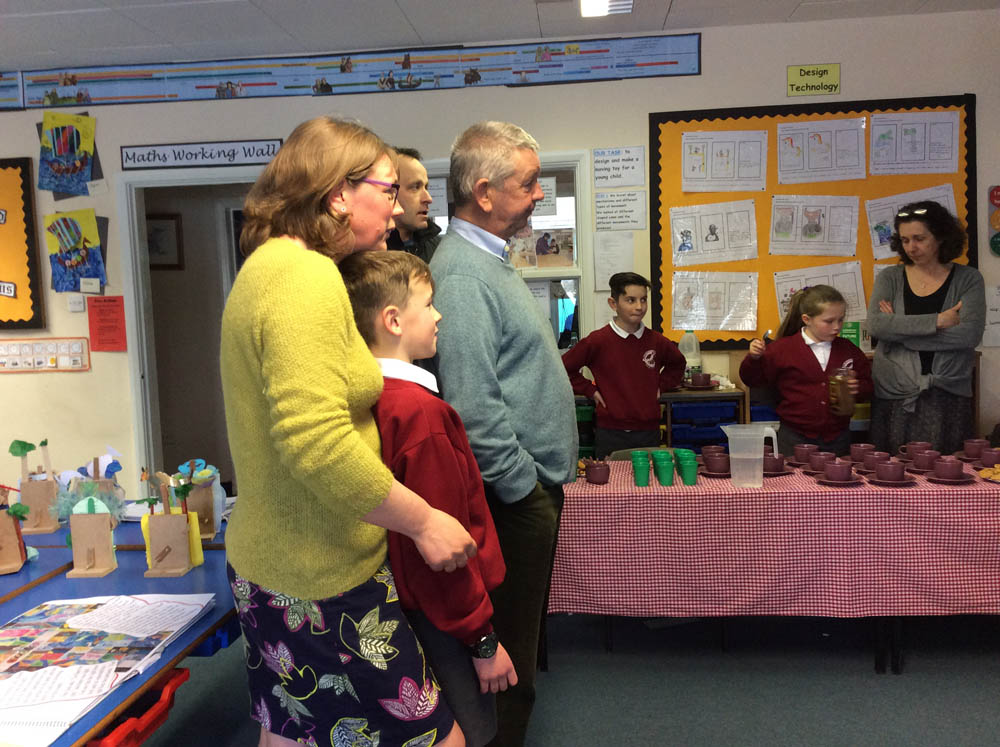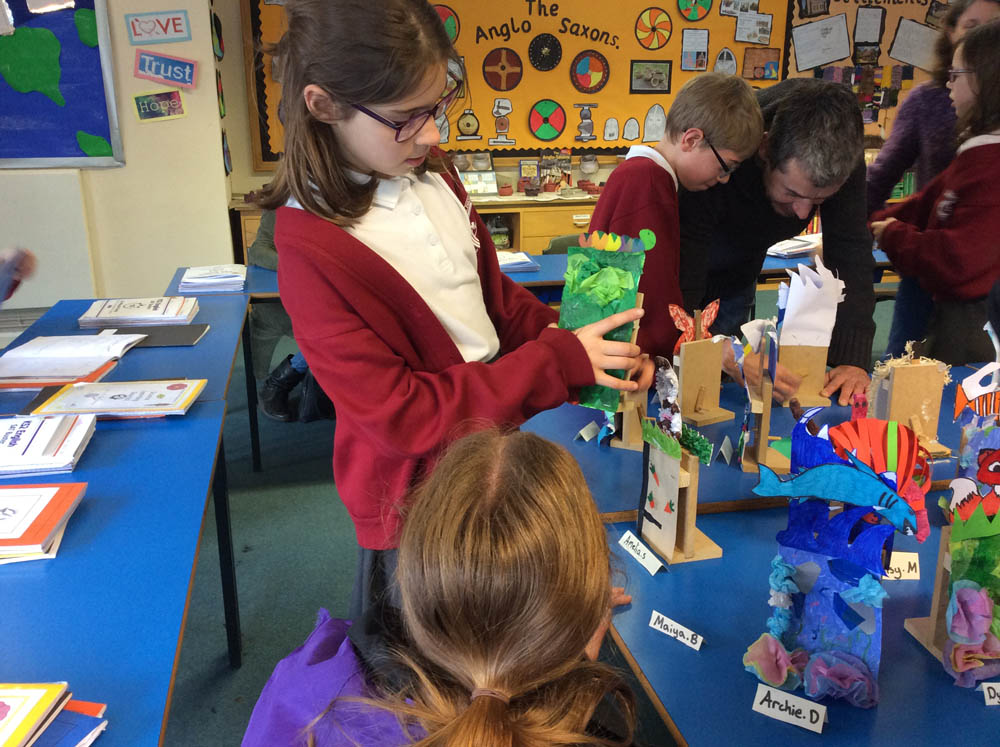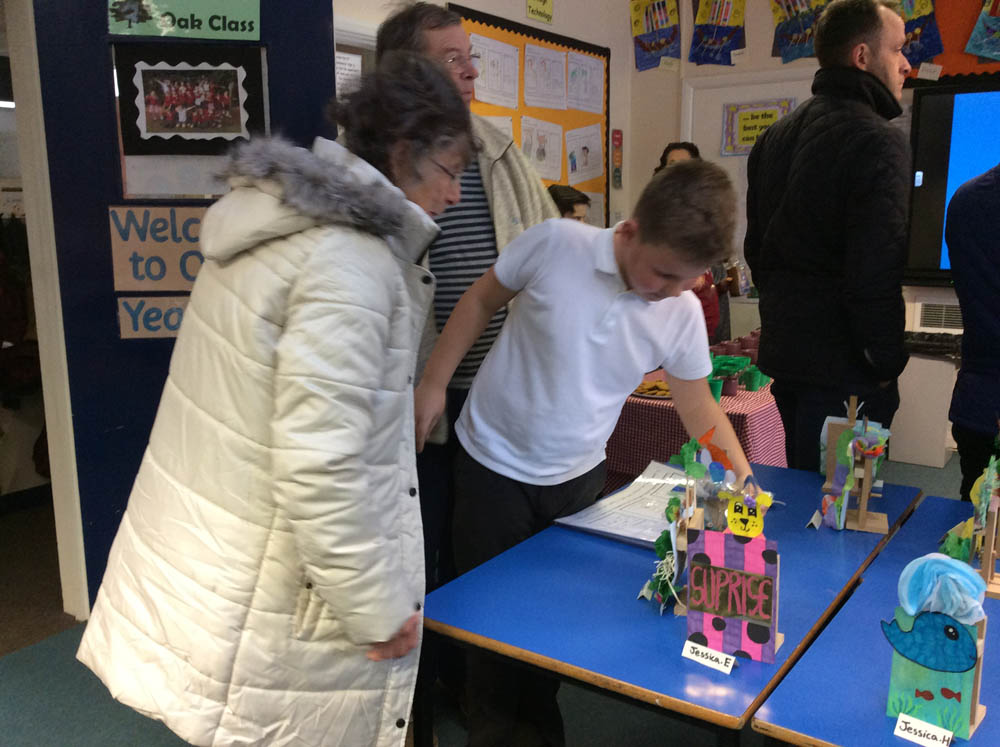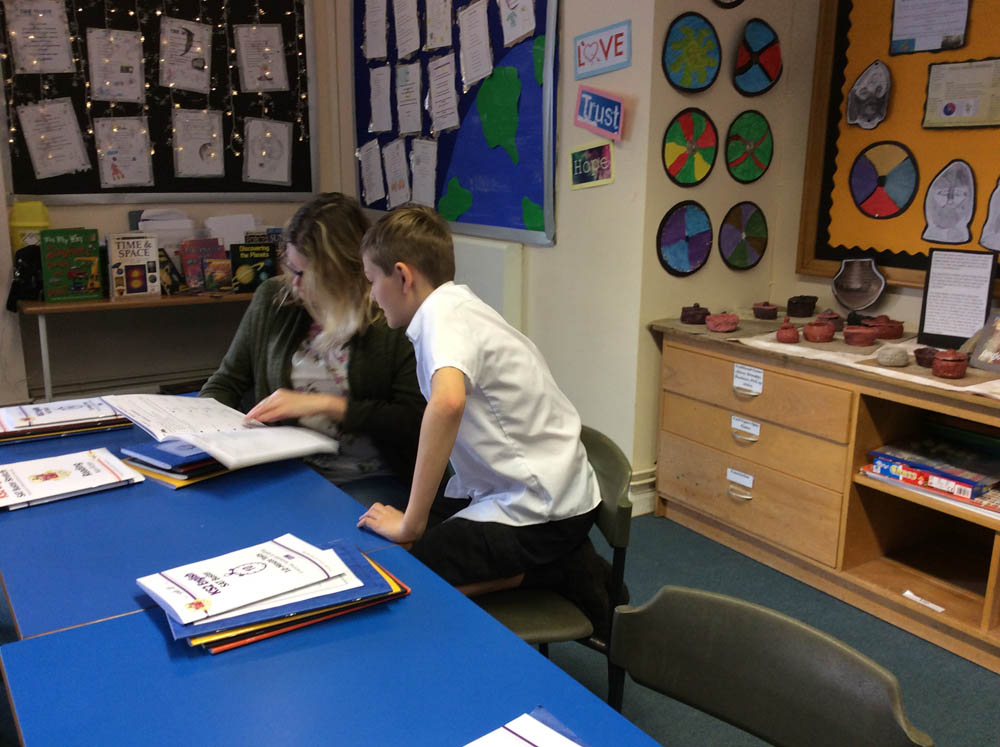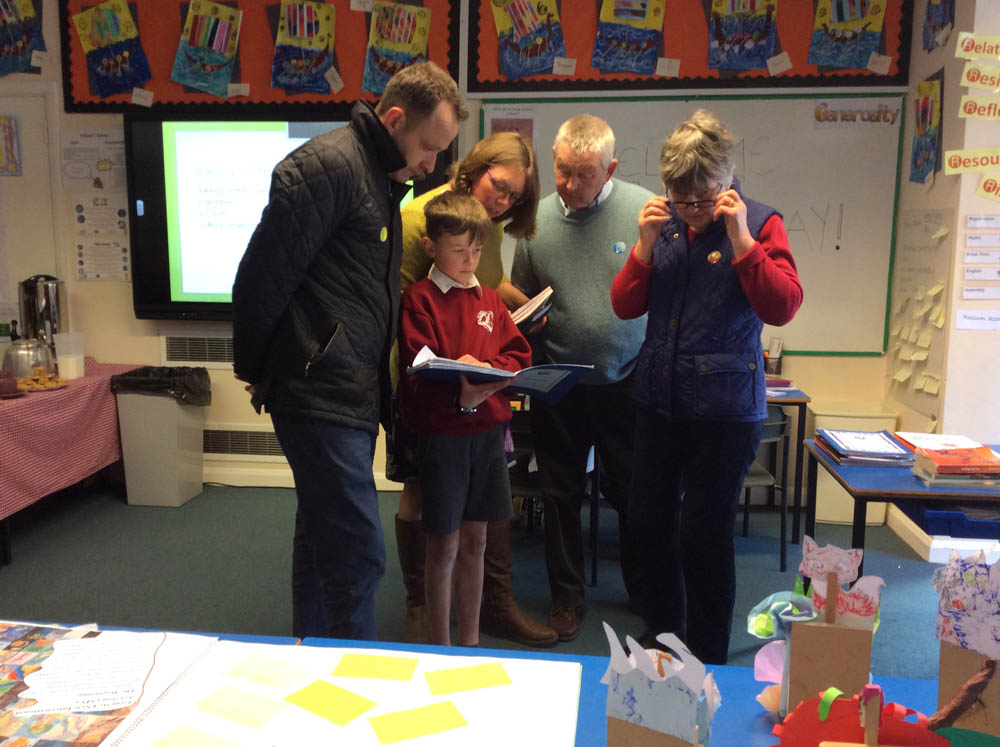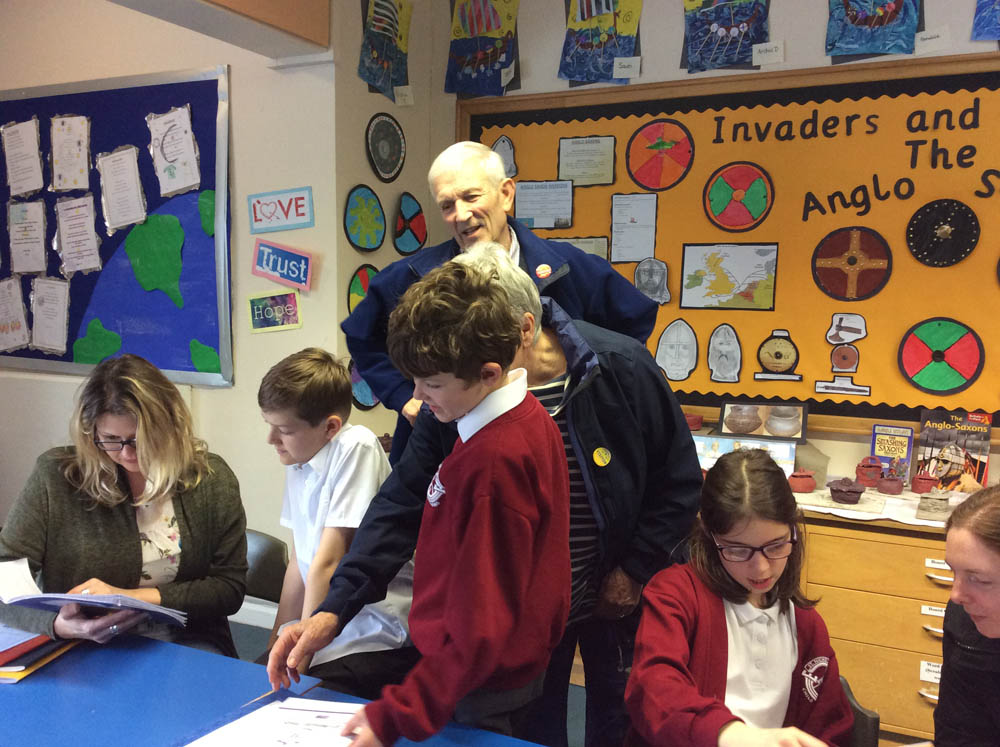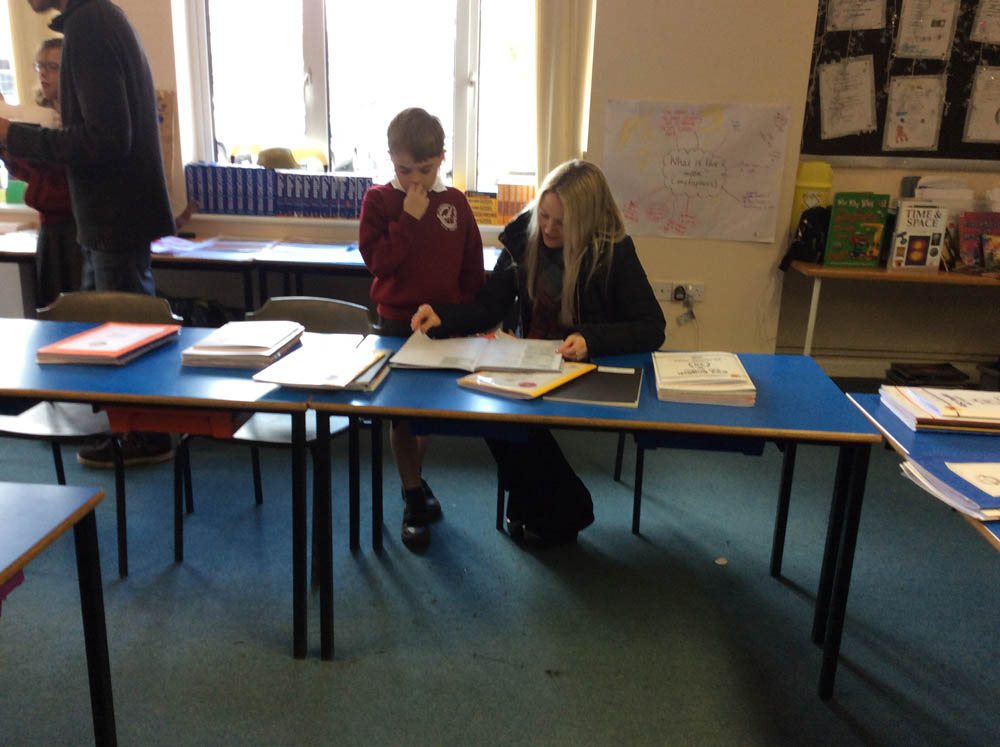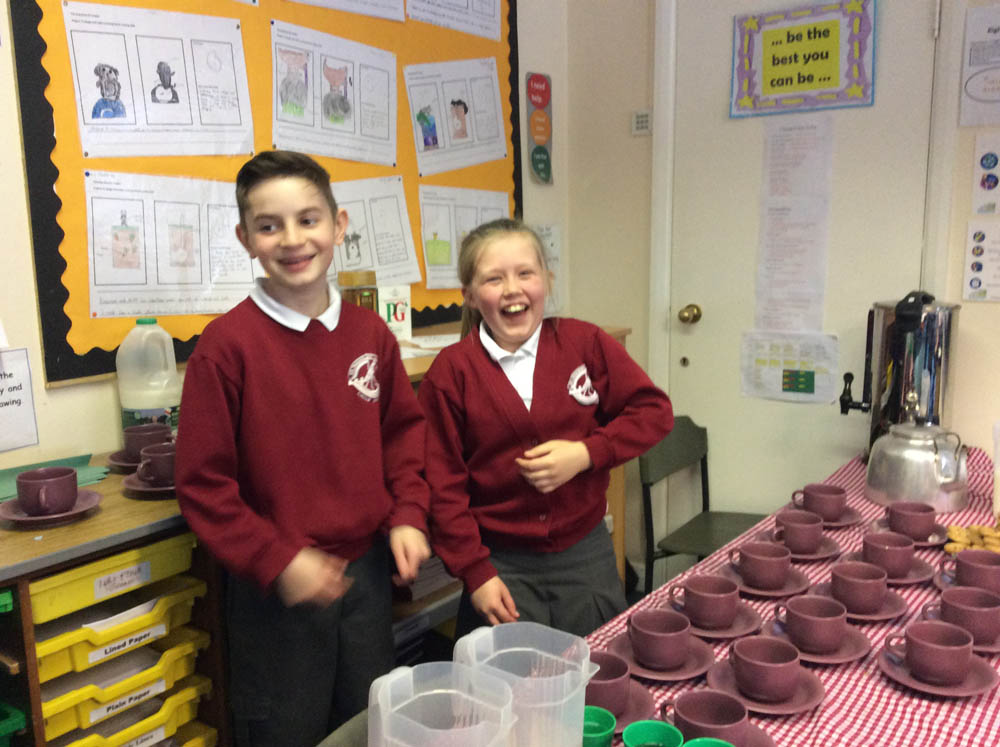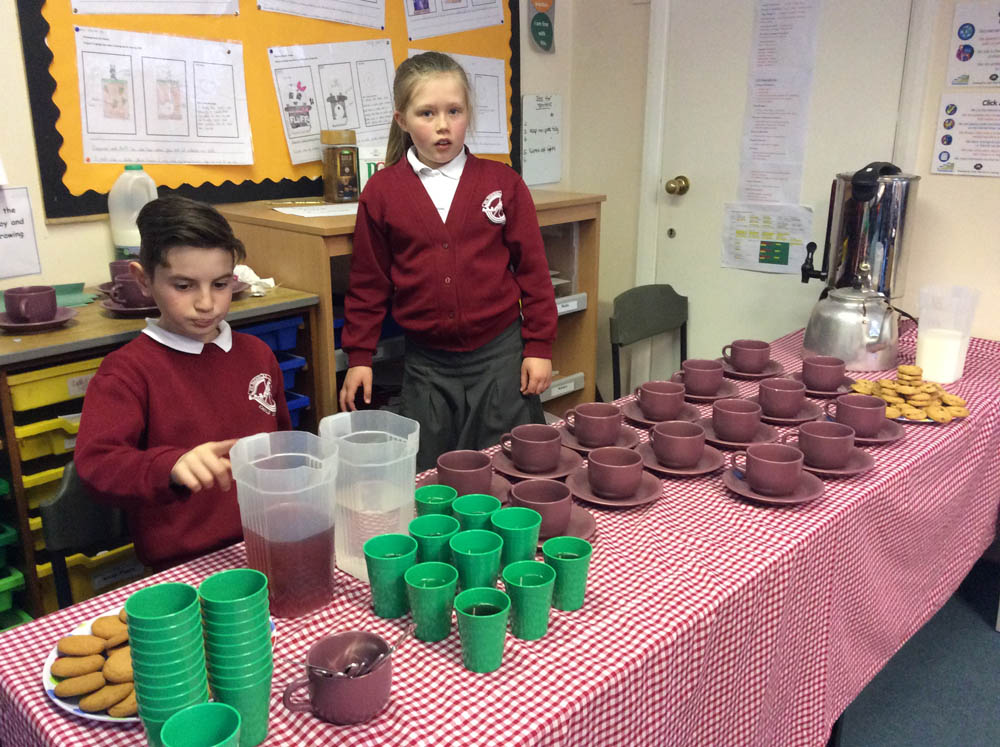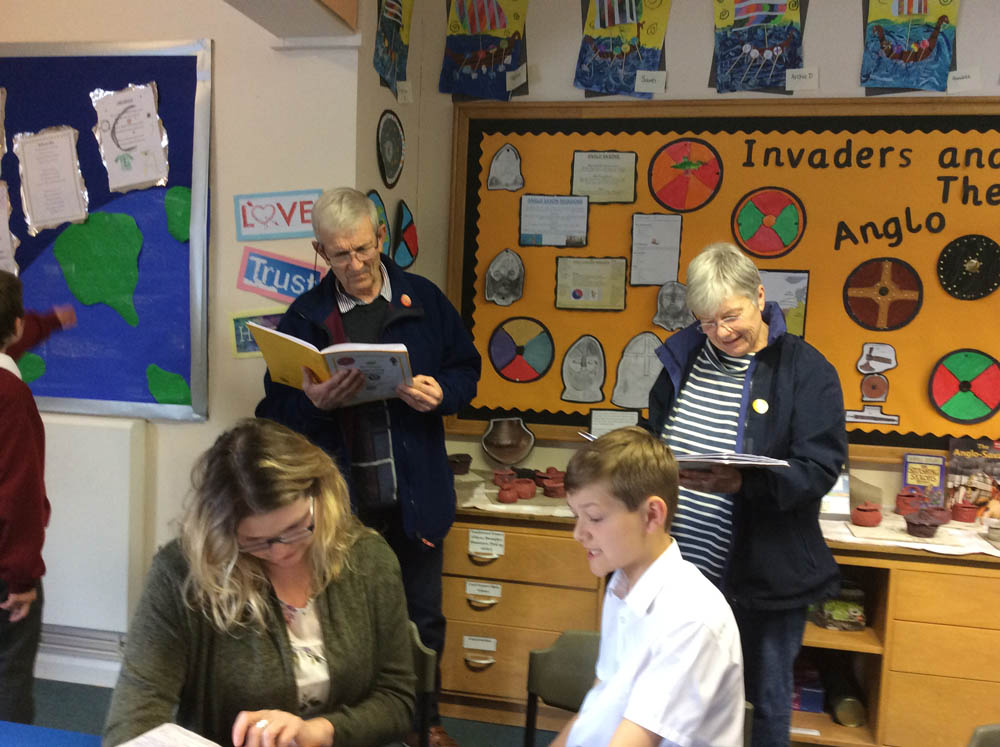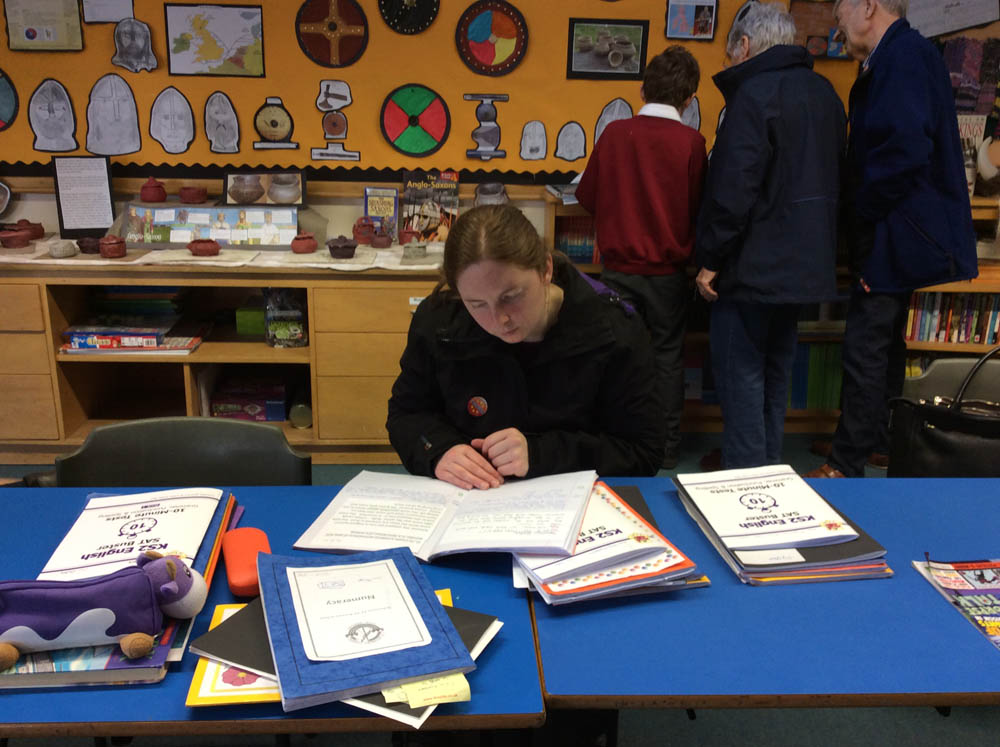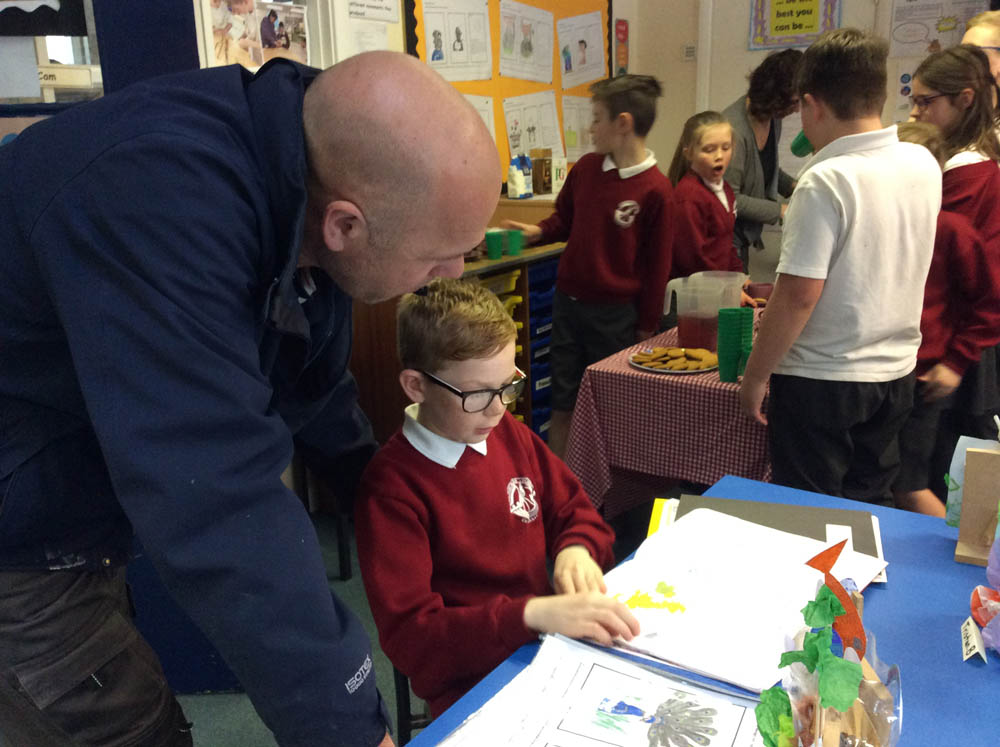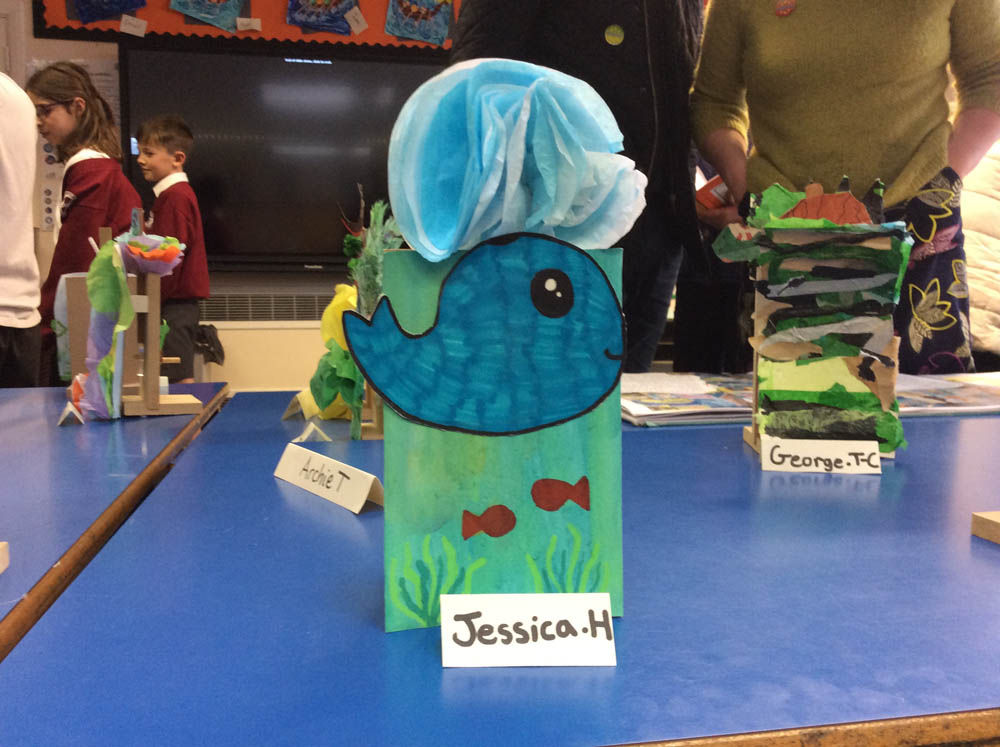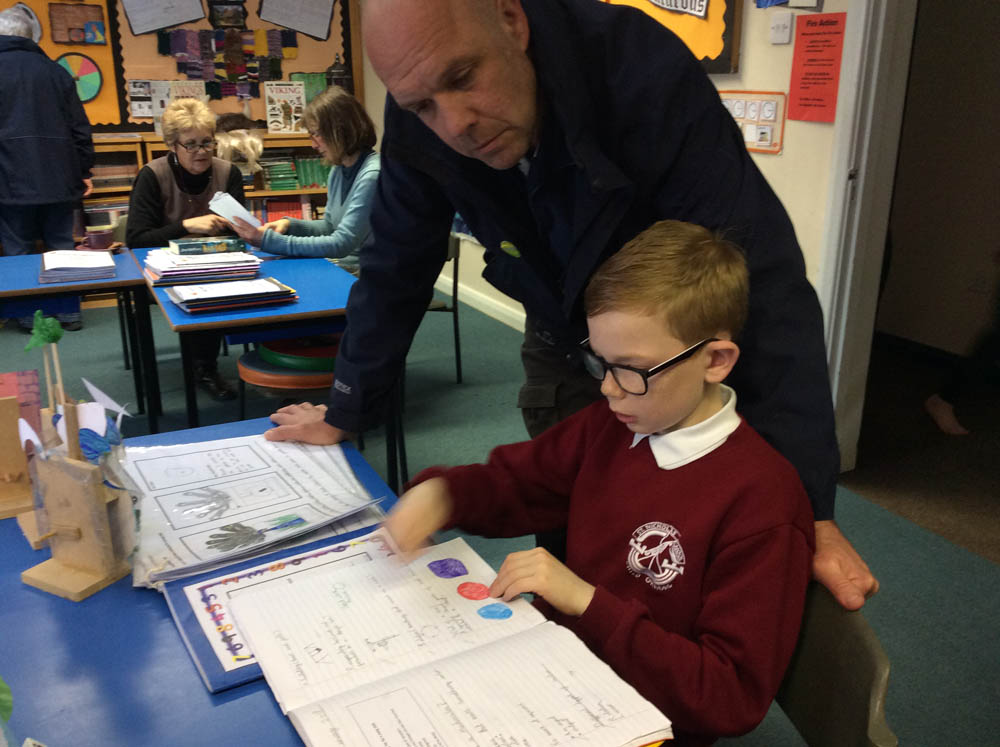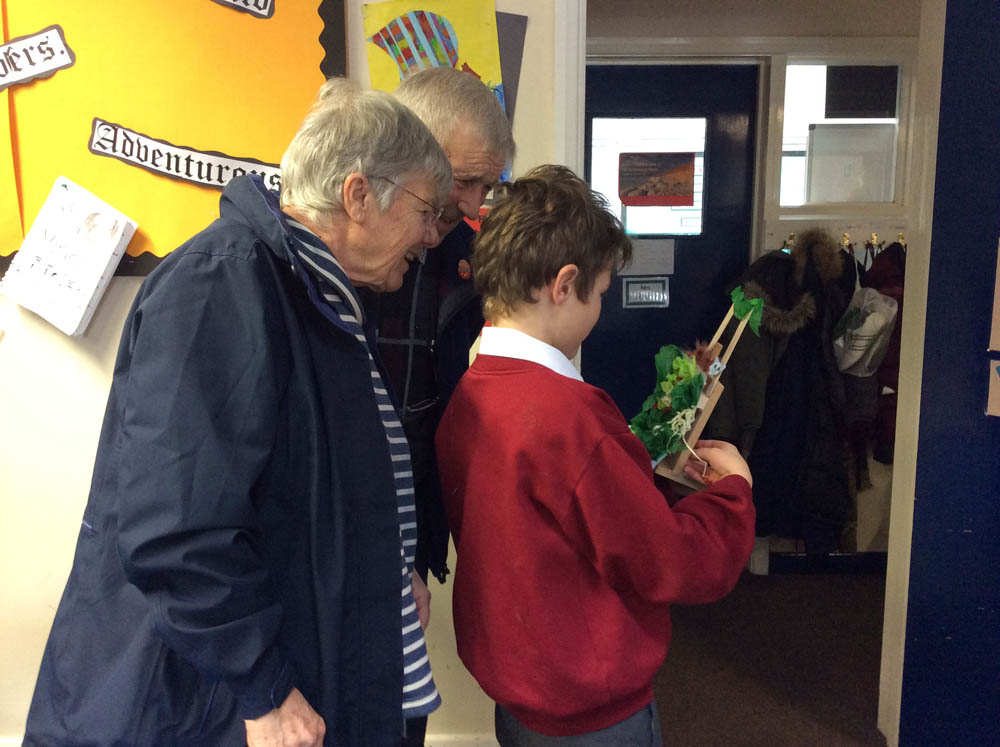 On Friday March 16th Oaks class proudly showed friends and family around the classroom and shared their books and art work. It was a great opportunity to celebrate the children`s hard work and fantastic achievements. We were delighted to welcome so many people to the classroom and would like to thank everyone who attended.
Thanks also to Keira and Dylan for doing a fabulous job serving tea and biscuits!
March 9th, 2018
Oaks have been focussing on a futuristic version of Little Red Riding Hood for World Book Day this year. They have written some fantastic stories based on `Chaperon Rouge`.The class arrived at school on Thursday, dressed as characters from the story.
March 9th, 2018
Year 1 and 2 winter sports day
On Wednesday 7th March 2018 Oaks class (Year 5 and 6), Chestnuts (year 1) and Willows (year 2) had a winter sports day. Oaks ran it while Chestnuts and Willows completed our activities. There was Rugby (which Hambledon ran), there was football (which Hod ran), there was Hockey (which Okeford ran) and Netball (which Stour ran). Hambledon started with Rugby, Hod started with football, Stour started with Netball and Okeford started with hockey. Every team played every activity. The rain started to heavily fall. Every child was really brave and carried on going.
In 4th place was Hod with 141 points. In 3rd place was Hambledon with 162 points. In 2nd place was Stour with 172 points and in 1st place with 179 points was Okeford. After all that fun and hard work it ended. Everyone was cold and wet.
By James (year 6).
March 6th, 2018
We designed , made and evaluated a moving toy for a young child. Here are the results!
Oaks and Acorns joined forces to create masks inspired by Picasso
February 27th, 2018
Our Trip to The Ancient Technology Centre.
February 22nd, 2018
20th February 2018. We were making our way to The Ancient Technology Centre. It took around thirty minutes to get there. We were on a private coach. Mrs Salisbury was beeping her horn behind us.
When we arrived, two ladies welcomed us. They told us to go to the toilet then meet them outside. Then we started our hike. When we finished our hike we started the jobs we had to do. One of them was making fire. We had to use: flint, cloth, steel, straw and ash. Our second activity was weaving fences with hazel wood.
Then we had a break and washed our hands. After that, I found a dead rat, we called it Roger and we found a dead tree weirdly shaped like a skull. Then we found a rabbit head. Then we ate our lunch. I didn't want my lemon drizzle muffin so I gave it to my best friend Freddie who loves lemon drizzle muffins. When we finished our lunch, we had a five minute break and then we got working on our third activity.
It was splitting wood. We sawed the wood breaking it in the middle of the wood with a throe then we bashed the throe with a mallet.
Finally, we learnt about animal skins. We were sitting on them. I was sitting on a reindeer. George and James were sitting on a beaver. Archie D, Archie T and Rudi were sitting on a wild boar.
February 5th, 2018
Collaboration was the name of the game when a delivery of bark chippings needed spreading out. A group of children worked tirelessly to shovel and rake until the job was done. Fantastic community spirit. Well done to all involved!
February 4th, 2018
This week saw the start of our Viking project. So far we have made some amazing long ship pictures and have begun to do some research for our independent projects.
We are looking forward to our trip to The Ancient Technology Centre and to finding out more about these amazing invaders.
WOW! – Design Technology Trip to Sturminster Newton High School
February 4th, 2018
Mrs Maley arranged an exciting new venture with Sturminster Newton High School. This involved the pupils from years 5 and 6 in designing a mechanised, moving animal. The pupils were then taken to the high school to work with sixth form students in the technology workshops and were able to experience using an exciting variety of tools to produce some really impressive, high quality work.
With the bases complete, the children will now work in school to produce the animals to mount on their mechanisms.
Photos to follow!
February 2nd, 2018
Oaks enjoyed learning about how to stay safe on the internet. Here are their top tips:
1. Choose a safe password and change it regularly.
2. Don`t talk to strangers online even if they are being nice to you and offering rewards.
3. Don`t say things on line that you wouldn`t say in real life.
4. Don`t give out any personal information on line.
5. Always tell a responsible adult if you are worried about any on line problems.
6. Make sure that you have good security settings.
7. Keep a copy of any nasty messages so that you can report them.
Another Action Packed Week in Oaks.
January 28th, 2018
On Monday, the class watched some dramatic and emotional videos about the effects of earthquakes on people around the world. They discussed the impact of such disasters on people`s lives and then took part in some drama, in which they tried to imagine what it would be like to be involved in an earthquake and the aftermath. The drama included a brief spell of time in the playground without jumpers on to get a little taste of being cold, uncomfortable and unable to find shelter. The staged arrival of the survival tent brought genuine relief to everyone (apart from Mrs Scott, who got her socks wet!) Mrs Salisbury was amazed at how compassionate and empathetic the children were, and commended them for their insightful comments and thoughts.
The drama session made the children realise how vital and life changing the survival tent project is and their ensuing stories and accounts reflected their feelings about the good work carried out by `Shelter Box`. The class will be thinking of ways to raise money for this worthy charity.
Many of the beautifully written stories were emotional and heartfelt, but one in particular brought tears to the eyes of many listeners when it was read out in assembly on Friday. A collection of the work can be seen in Oaks class. Please feel free to come and have a read.
The class have had their last week learning about the Anglo Saxons and have enjoyed discovering how Anglo Saxon settlements operated with families working hard on their farms and trading produce and favours. The class engaged in more role play as they grouped together in families and were given cards with different problem scenarios written on them. The families then had to negotiate with each other to solve problems and help each other. This session was great fun, noisy and revealing…it would seem that we have our very own dodgy dealing Arthur Daley in Oaks class! Our final Anglo Saxon activities involved dying wool with all sorts of plant materials and weaving cloth from wool (see photos above).
Next week we will be bracing ourselves for Viking raids and the onset of a new historical era, our final gym session on `flight off hands`, the second round of the Davison Cup (weather permitting) and the year 6 trip to Sturminster High School to construct their moving toy designs.